Some 2,500 Easter Egg Hunters Seek out 13,000 Easter Eggs on Saint Hill Manor Grounds
A magical Easter for the entire community at the Scientology UK headquarters in East Grinstead.
More than 2,500 eager Easter egg hunters ages 1 to 80 descended on Saint Hill Manor grounds Easter Sunday, all of them well up to the challenge of seeking out a full 13,000 Easter eggs. At the end of the day, by all reports, not a single egg was left unfound.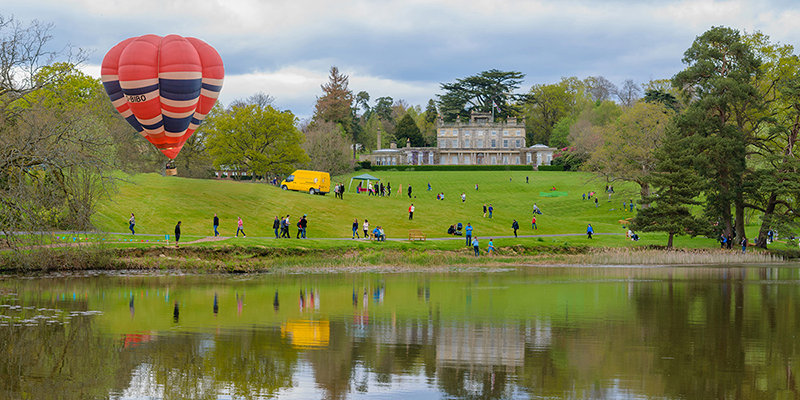 There was plenty on offer with seven different egg hunts: courtyard hunts for the little ones; "badger bridge" hunts near the bridge on top of the hill for the bigger ones; more hunts around Saint Hill Lake; and a hunt behind the Manor with yet another treasure trove of eggs. Those paying attention were likely to find cutouts of sheep, bunnies, chicks, eggs and butterflies hanging from the trees throughout the 61 acres of grounds. And in each area, there were even golden eggs, with special prizes for those who found them.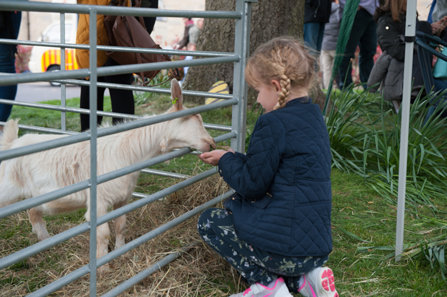 In addition to the multiple egg hunts, there were many other activities, including the very popular tractor rides, with a trailerful of 30 people each trip. A big six-section trampoline was packed all day, as were pony rides and an inflatable bouncy castle. And just to round it out were penalty shootout football matches, remote-controlled speed boats on the lake, and kites.
The petting zoo in the castle area was crowded with two sheep, two goats, a pony, bunnies and guinea pigs, while in the Castle's Great Hall, there were eggs and paint aplenty for decorating and, for the tiny tots, a soft playing area, face painting, balloon modeling, glitter tattoos, fairy wings, bunny ears. And coffee was available for the big people.
Over at the Castle's Refectory, an enormous BBQ and roast lunch gave visitors ample fare to choose from.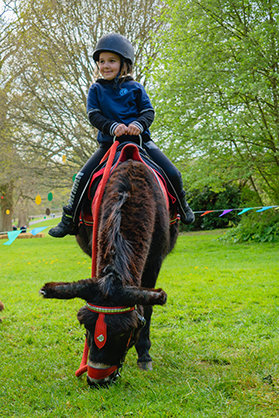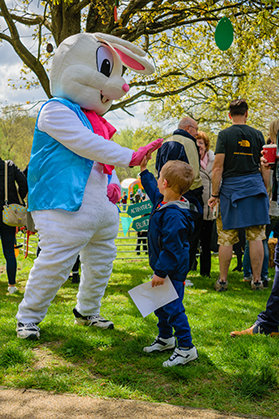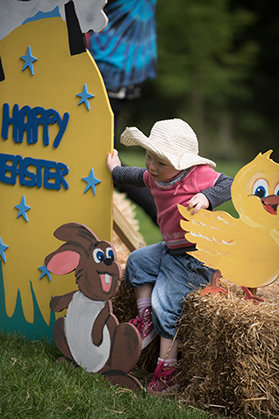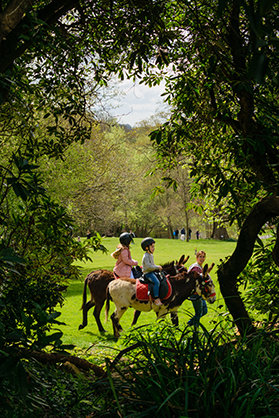 Scores of comments were posted on Facebook about the day:
"My daughter never gets involved, but here she participates in everything, it's just amazing."
"Today was fabulous. I can't think how to improve it. Loads to do—we didn't manage it all. It was a lovely, friendly atmosphere— a great day for our toddlers and nearly four-year-old. Face painting and trampolines were particular favorites. Very reasonably priced refreshments. We'll definitely be interested in future events."
"Have to say that Saint Hill really put on a spectacular Easter Egg hunt. We paid only £2 to get in and nearly everything was free! The whole place looked like a mini Disneyland. The staff were very friendly, it was just a really lovely relaxed day. Thumbs up from us!"
"Our daughter spent ages on the phone to Gran telling her all about it. Big cuddles with the Easter bunny and so much to explore. She was scarily focused on finding those eggs! Bonus when they are exhausted by the fun!"
"Amazing day, couldn't fault a thing, can't wait for the medieval fair in May!"
"At Saint Hill there is so much space and many people around being so helpful, this is a very safe place for the kids to come."
"We loved it! A group of us came along of all ages and really enjoyed it! Especially the tractor rides, stalls. Lots to do and very well organized."
"It was an amazing day out, kids loved it and it was a really lovely atmosphere!"
"Thanks!!! Was really great!!! We had an amazing time… my mum even got a tour of the Manor house which made her day!!!"
"Totally amazing, couldn't have been better."
"My little girl loved it! She didn't know what to do with herself as there was so much to do!"
"I'm seriously impressed, first time I have been today and was amazed. And there were some lovely, kind kids about."
Saint Hill Manor is the historic home of L. Ron Hubbard, and Saint Hill Castle is the home of the Church of Scientology. All proceeds of the Easter event will benefit Chequer Mead Theatre.